A product designer providing the best solutions possible since 2003
---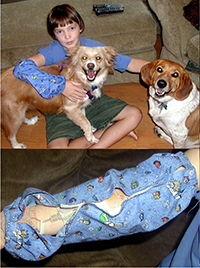 Every Hampton House product is the direct result of a nurse's frustration, a parent's dilemma, or a patient's medical requirements not being met. I work with these experts to design new products, or redesign existing products, to solve problems. I provide the prototypes and the patients and clinicians provide the feedback, and then the product is modified until it's ready for a trial period by the patients and/or clinicians. This way, I know we have a safe product that works, that's endorsed by both clinicians and patients. If you have a Hampton House product, you can be assured it's proven to work and it's safe. Every product carries an unconditional guaranty of 100% satisfaction or your money will be refunded.
We believe that each challenge is wholly unique
By working directly with medical staff and patients,
we help design and develop products to maintain the health care
and improve the day-to-day comfort for the entire family.
---